by Dick Holden and published in Y&Y on 11 Jun 06:18 BST8-9 June 2019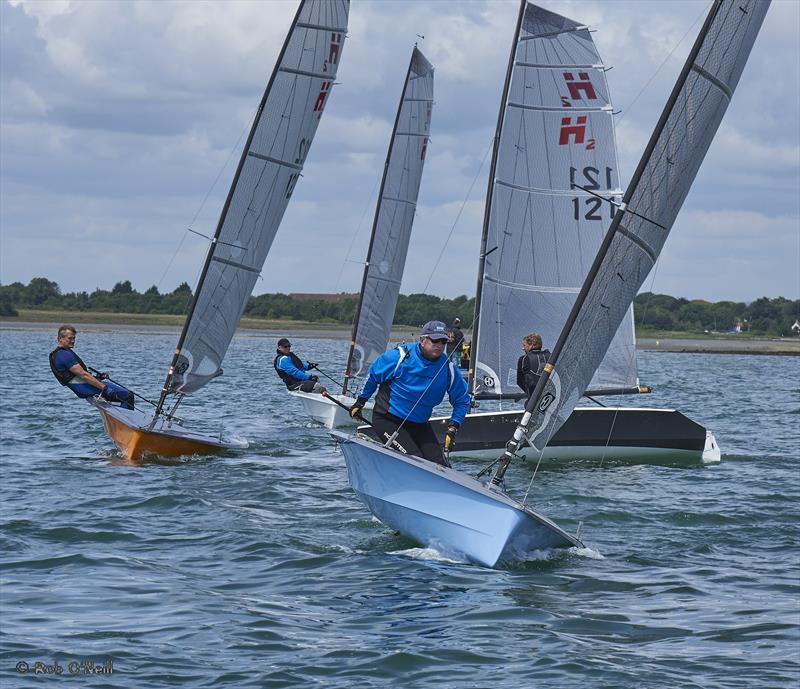 Hadron H2 Open at Itchenor © Rob O'Neill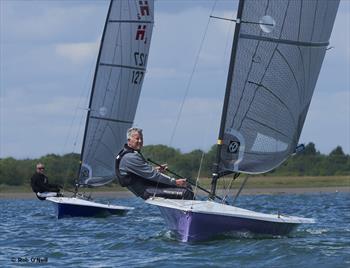 PRO Harvey Hillary set triangular courses for the first two races. There was a beat into the tide and across the main fairway. The choice was to tack up the shallows along the East or West bank to dodge the tide, with each side having its supporters and honours largely even. The final race had an extended beat and a slalom home to finish on a line near the clubhouse.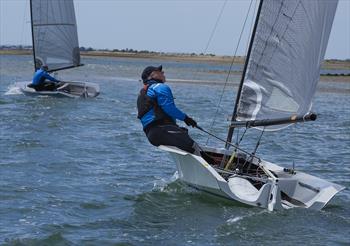 Whilst Ian Sanderson won the event, credit must go to the next three places all filled by experienced racers but who are relatively new to the H2 Class. Chris Brown, who finished second overall (declaring RORC as his home club!) – won the final race. There is a very friendly and supportive atmosphere whenever the Hadron H2's come together, with many owners planning to support the National Championship at Arun YC, Littlehampton in early September.
The Hadron H2 Class Association thanks Itchenor SC, and especially Ryan Breach, for hosting and organising the event.
Overall Results:
| Pos | Sail No | Helm | Club | R1 | R2 | R3 | Pts |
| --- | --- | --- | --- | --- | --- | --- | --- |
| 1 | 111 | IAN SANDERSON | Keyhaven YC | 1 | 1 | 2 | 2 |
| 2 | 127 | CHRIS BROWN | RORC | 3 | 4 | 1 | 4 |
| 3 | 122 | ROGER EWART‑SMITH | Itchenor SC | 4 | 3 | 3 | 6 |
| 4 | 102 | IAN LITTLE | Thorpe Bay YC | 2 | 6 | 4 | 6 |
| 5 | 113 | DAVE BARKER | Draycote Water SC | 5 | 2 | 7 | 7 |
| 6 | 109 | NIGEL COWAN | Itchenor SC | 6 | 7 | 5 | 11 |
| 7 | 131 | ROGER MILLETT | Chichester YC | 7 | 5 | 6 | 11 |
| 8 | 121 | DICK HOLDEN | Arun YC | 8 | 8 | 8 | 16 |
| 9 | 107 | MARK WIPPELL | Itchenor SC | 9 | 10 | 9 | 19 |