Royal Torbay YC, 11-13 September
Report on the final day's racing.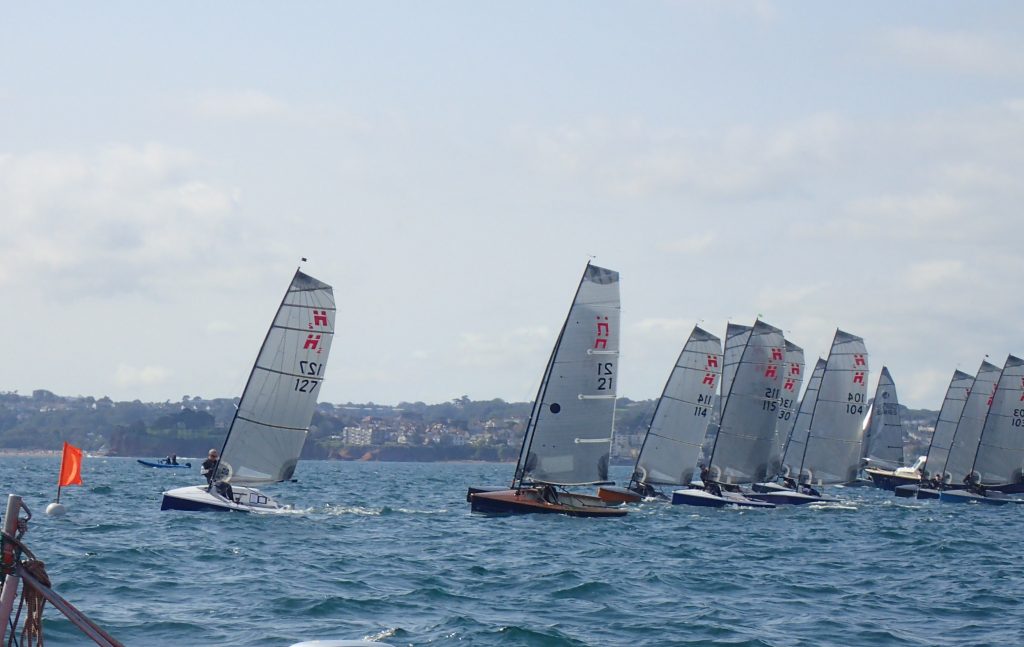 Another lovely sunrise over Torbay – but a flat calm. Not good for sailing. The H2 fleet launched on time and spent an hour or so waiting for some pressure – which duly appeared from the south at about 11:30. The final two races took place in a 10 knot breeze amid sparkling seas – superb sailing weather. If Richard Leftley could win the last two races he would be the champion but Ian Sanderson was determined to keep his slender overnight lead. Richard's windward superiority in a breeze was soon made apparent as he rounded the weather mark in first place, followed by Adrian Williams and Andrew McGaw, with Ian Sanderson trailing in seventh place. Ian made up several places downwind and was second at the leeward mark but he could not catch Richard, who scored his fourth win of the event. Simon Hipkin sailed consistently well for third place, with Ian Dawson fourth.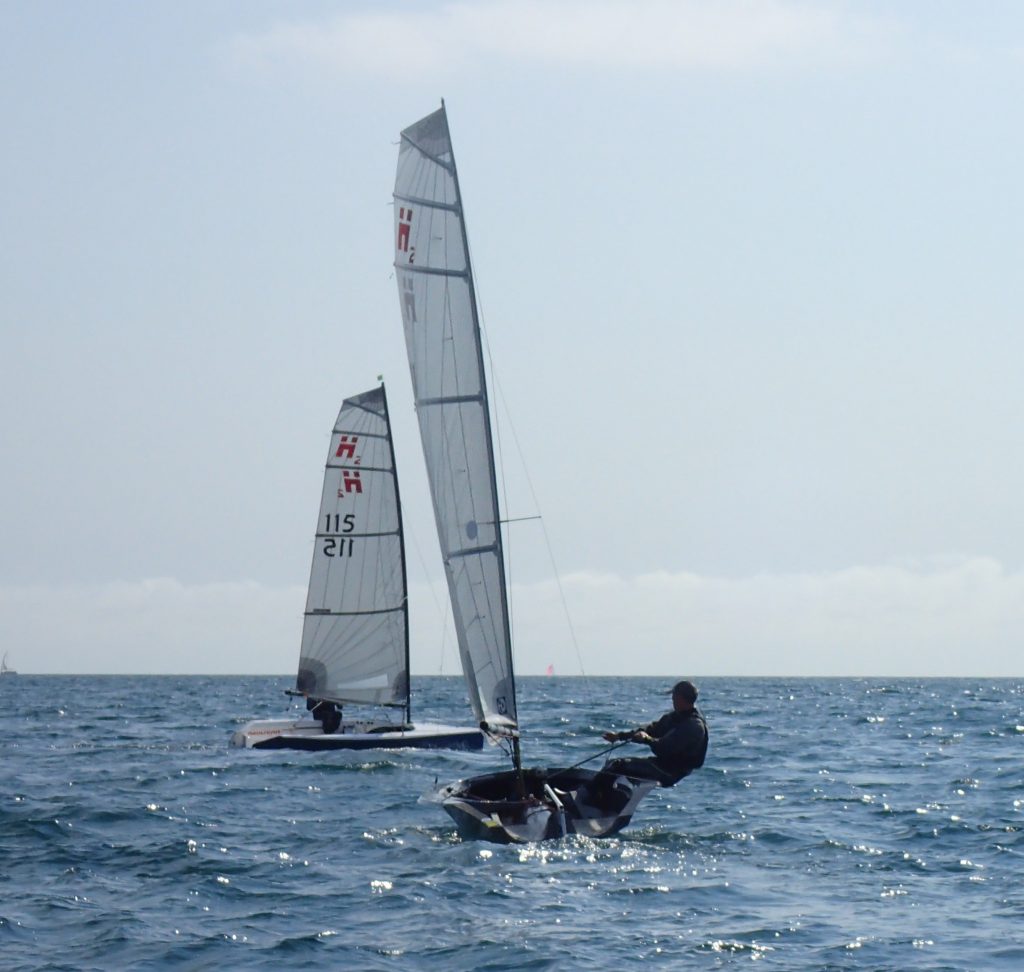 The 8th and last race soon started in similar conditions to race 7. Again, Richard was first to the windward mark but this time Ian was a little closer. Nonetheless, Richard maintained his lead and at the start of the final run had a 100 metre lead over Ian, followed by Andrew McGaw and Ian Dawson. With just a few hundred metres to the finish, Ian had narrowed the deficit to 50 metres but it seemed that he would have to relinquish his title to Richard. But Fate likes to play tricks – whether it was a gust from astern or Ian finding another gear, the gap narrowed rapidly in the approach to the final mark and Ian reached across Richard's stern, did a smart gybe and took the inside berth at the mark. Ian rounded ahead of Richard and received the winning gun just 3 seconds ahead of his rival. So after three days, 8 races and several hours of racing, the Championship was won by a margin of 3 seconds. It was a fitting climax to a great event in which all competitors played a full part – there being no more than 3 minutes separating first and last in most races.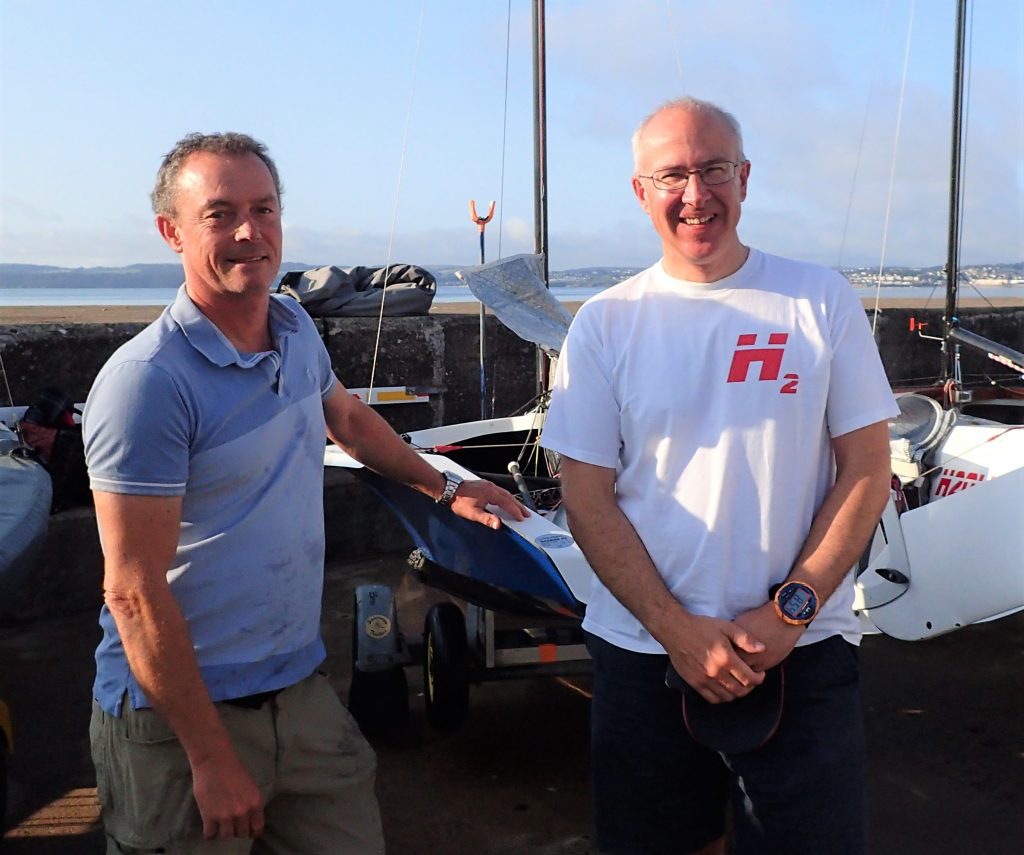 Ian Sanderson's H2's sail number – 111 now matches his championship wins – 3 in a row.
Special mention must go to Ian Dawson, who finished in third place over all and also won the Grand Master's Trophy for the first helm aged 65 to 69. In fact he finished ahead of the winner of the Master's Trophy (60-64) – Andrew McGaw, who finished was fourth. But all competitors sailed very well and almost all finished within shouting distance of the two front runners on occasion.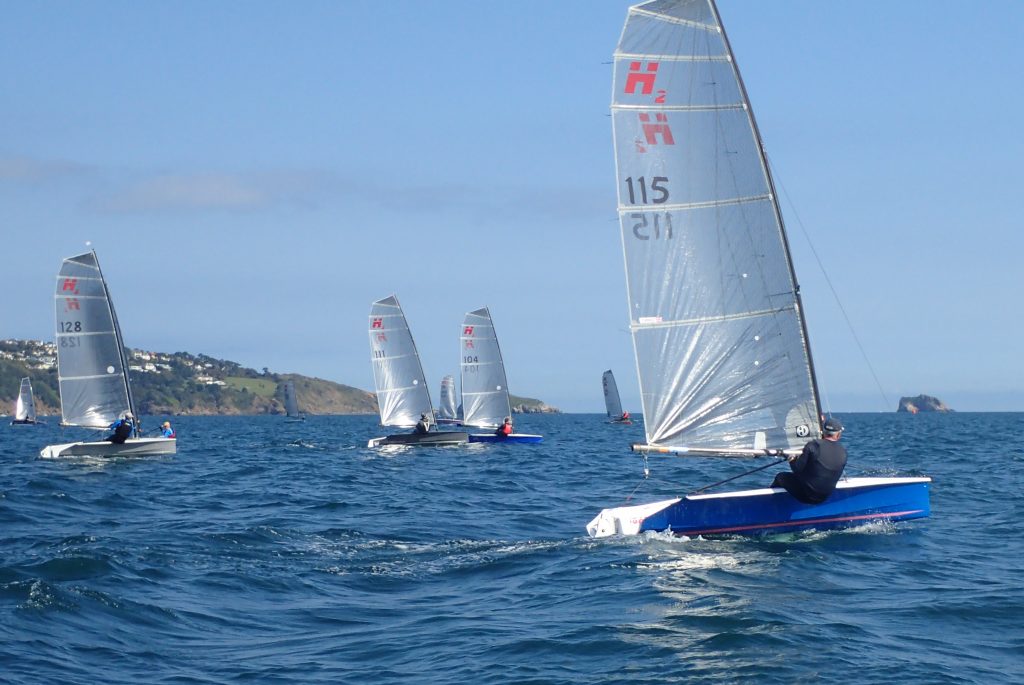 Back ashore the distanced prizegiving provided multiple prizes for all competitors – thanks to our sponsors, Allen Brothers.
The Hadron H2 Class Association thanks all the volunteers and staff of the Royal Torbay YC who provided us with a great courses and fine hospitality. Special thanks go to PRO Bob Penfold and his team, who always managed to second guess the shifty conditions and set perfect courses. The launching and recovery in a busy harbour was very efficiently managed by Richard Walden – a master of diplomacy and persuasion.