This year's championships took place at Herne Bay SC, Kent, from 7th to 9th September, the full report from Yachts and Yachting.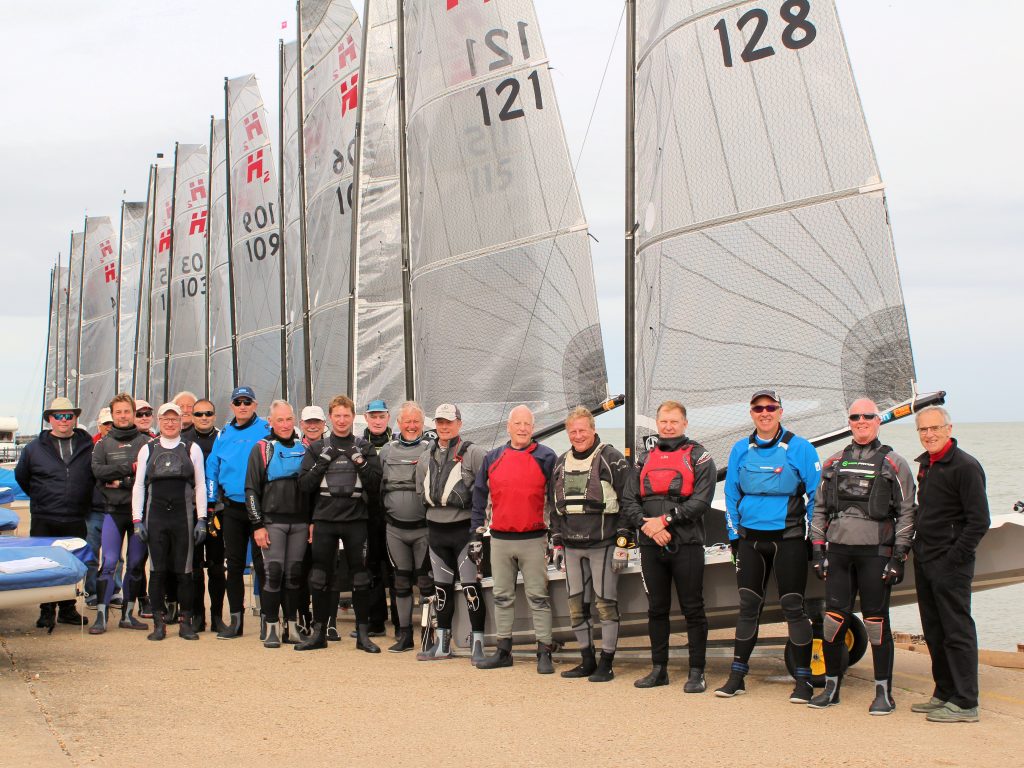 The third and final day of the Hadron H2 National Championships at Herne Bay SC dawned with a light SSW breeze which steadily increased to 18 knots at times. As on the previous day, the RO opted for a triangular course for races 6 and 7 of the series.
Ian Sanderson's three wins on the previous day had made him almost unassailable for the championship – but not quite. If second placed Alistair Glen could win both remaining races, with Ian DTP in both, then he might just do it. Alistair set to with a will and his H2 creamed around the course with full intent, flying from wave top to wave top in the short seas. He succeeded in his goal, but Ian was at his heels and finished in second place, thus becoming H2 National Champion. Dave Barker, one of the lighter H2 helms, was also having a great day and came in third. Class chairman Dick Holden found his old form after reconfiguring his spreaders and came home fourth with Richard Leftley in fifth.
And so on to the final race. It might have been an anti-climax after the decisive previous race but it turned out to be a very close race indeed as all competitors were now fully used to the brisk conditions and were determined to give of their best. By some coincidence, the first four places were taken by the overall leaders – in the correct order – Richard Leftley in third and Michael Alexander scoring a fourth place to retain over all fourth – just as last year. The next group of contenders were very close indeed, places 5 to 10 being separated by only 5 points. Dick Holden scraped a seventh in this last race to lead the pack over all.
And so after nearly six hours of racing over 3 days, a dozen and a half rather tired competitors made for shore to de-rig their boats and prepare for the journey home – two of them returning to Scotland.
At last year's champs, Ian Sanderson was involved in a titanic struggle for number one spot with Paul Smalley. Paul won by the smallest of margins, but this year Ian became the deserved winner of the Harold Smith Championship Trophy – congratulations, Ian, from us all.
But of course there was one more event to come – the prizegiving. Every competitor received a prize, sponsored by Hadron Dinghies, and the top three also received vouchers from Allen Brothers. In addition, there were special prizes for the first helm in the following categories:
Mid life crisis – Age 55-64: Alistair Glen
Prime of life – Age 65-70: Ian Dawson
Super grand-daddy – Age over 70: Kevin Connolly
Too light to sail an H2? – definitely not! (weight under 75kg): Ian Dawson again (he is a healthy but sadly uncommon combination of old and light)
Battlecruiser weight (over 95kg) – Richard Leftley (NB, definitely no flab – all muscle muscle and bone!)
There was also a special accolade for Julian Hines' Hadron H1, which competed as a special guest of the H2 class. (The H1 is the plywood precurser to the H2 and Julian's boat was beautifully built by Simon Hipkin a few years ago). The boat sported a striking new flat top mainsail by Ian Morgan.
Special thanks went to Dougal Henshall and his race crew for their impeccable management of the races, carried out in variable conditions of wind and wave.
There was unanimous acclaim for the 57 volunteers from Herne Bay SC who willingly gave of their time to organise the wonderful meals and refreshments, man the rescue boats and race boat, manage the boats ashore and recover them after the racing, and all of the many other things that are necessary to make a successful championship. 57 people – that 3.5 volunteers for each competitor! Thank you, every one – we would love to come back soon if you will have us!