The Hadron H2 Midlands Championship took place on Saturday 16th and Sunday 17th at South Cerney Sailing Club in the heart of the Cotswolds.
As the event drew nearer the forecast looked more and more challenging with a high probability that Saturday would get blown off. Sure enough, when we all arrived it was blowing "dogs of chains" straight down the lake. South Cerney's state of the art weather station was showing a mean wind strength of 26 knots gusting into the 30's and occasionally 40. Local H2 helm Richard Leftley bravely went out for a test sail and came back with clear advice that it was just about sailable but not raceable. After some debate and bravado the decision was taken to cancel racing on Saturday but not before the rescue team kindly offered to head out in the cold for any mad types wanting a blast. Richard and I took up the offer along with two RS300's who we were sharing the event with.
Wow, it was wild. South Cerney now has some new executive bolthole pads built around the (windward) shore and the affected gusts were intense. On Off upwind battling and wild twitchy downwind blasts. Great fun and resulted in some super photo's but after an hour discretion prevailed and we headed in while still in one piece. Six Nations Rugby, Doom bar and a great curry finished off Saturday.
As forecast Sunday dawned bright, sunny, very cold, and in relative terms a much more manageable 18 knots gusting 25! Racing was on with a planned four short back to back races.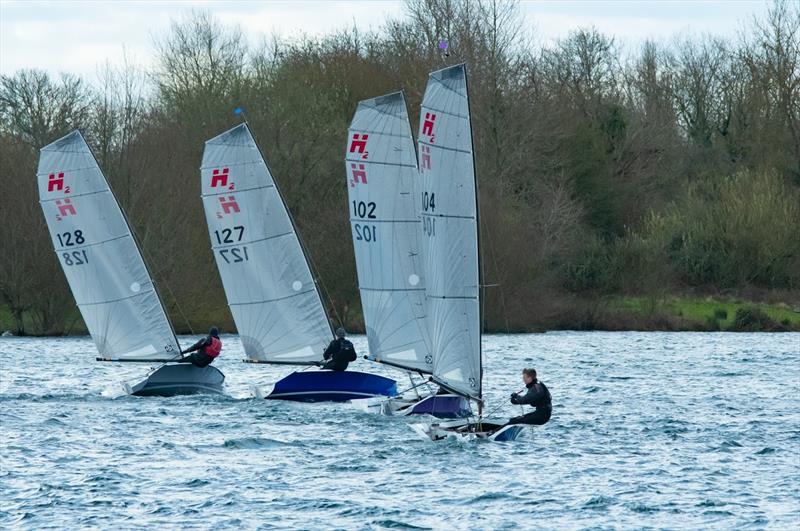 The beat of the first race set the scene huge solid on / off gusts and swings leading to up and down place changes with the exception of the master Richard who ended up rounding every mark first all day.
Rig set ups varied. I had some static rake, kicker and Cunningham on as hard as I could pull, centreboard up a touch and was out on my toenails all day. I don't think Richard has even fitted a Cunningham yet!, he still had luff creases, a tight rig and was going for power.
A reach and gybe led to a long broad reach blast down the lake followed by a short base leg reach, another beat then a run down to the start area.
The wind built through the four races along with the intensity of the gusts, so it was very tough racing. Every RS300 capsized at some stage in the day, so there were a few extra obstacles to avoid. Arms and shoulders will definitely suffer after this and it will be some time before Ian's skin grows back on his fingers.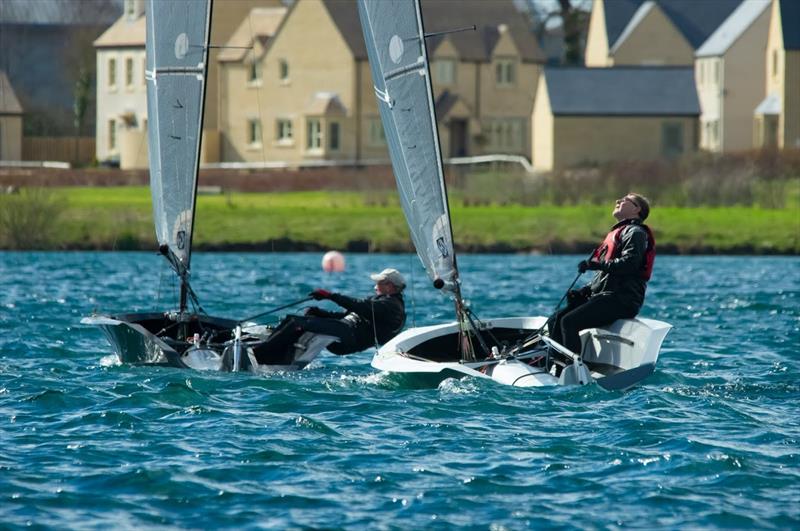 Richard clearly showed the way around in these conditions. Andrew put him under pressure on race three though and managed to stay within a few boat lengths all race so there is still hope. Andrew and I had an intense battle, swapping places all day and ending up on equal points. I was awarded 2nd place in the end due to having the better final race result. Chris and Ian kept us under pressure though and also had some great close racing, with Ian securing fourth. Chris was a bit shell shocked with the gusts and is looking forward to returning to big seas and stable winds
Congrats to young Max, a South Cerney cadet sailor who sailed the demo H2 admirably in such challenging conditions.
Overall some fabulous close punishing racing, in very difficult conditions. Great race management and course setting and a very welcoming club team with a fantastic galley.
Overall Results:
| | | | | | | | | |
| --- | --- | --- | --- | --- | --- | --- | --- | --- |
| Pos | Helm | Sail No | Club | R1 | R2 | R3 | R4 | Pts |
| 1 | Richard Leftley | 115 | South Cerney | ‑1 | 1 | 1 | 1 | 3 |
| 2 | Dave Barker | 113 | Draycote | 2 | ‑3 | 3 | 2 | 7 |
| 3 | Andrew McGaw | 128 | Northampton | ‑3 | 2 | 2 | 3 | 7 |
| 4 | Ian Little | 102 | Thorpe Bay | 4 | 4 | (DNF) | 4 | 12 |
| 5 | Chris Brown | 127 | RORC | ‑5 | 5 | 4 | 5 | 14 |
| 6 | Max Buswell | 104 | South Cerney | ‑6 | 6 | 5 | 6 | 17 |